One of my training participant has asked me a question,
Will my cube will be available during processing ?
SSAS cube processing can kill running queries. That's right, it may kill queries in order to commit changes to the cube.
Here is what happens during SSAS cube processing.
The cube finishes calculating the next version of the cube
Before the data can be made available, SSAS prevents new queries from running (cube go offline when the final step of write back happens (final stages) of processing. But this period is less in comparison to the processing time )
Any currently running queries are allowed to finished normally for 30 seconds
After 30 seconds, SSAS kills any running queries
SSAS commits the new version and allows new queries to hit the updated data
Another participant has asked a question, Can I kill a user query during a cube processing ?
The answer is yes, you can this do this by specifying ForceCommitTimeout in a SQL Server Analysis Services properties window.
The default value for this property is 30 seconds (30000 milliseconds), which indicates that other commands will not be forced to timeout when the current command times out.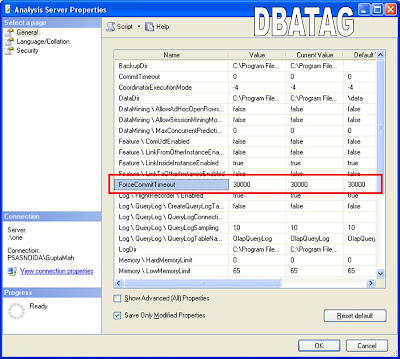 If the query is being cancelled, the end user, will get a message "the operation has been cancelled" errors from a long running query (one that takes more than 30 seconds) while a cube or partition is being processed.